My Story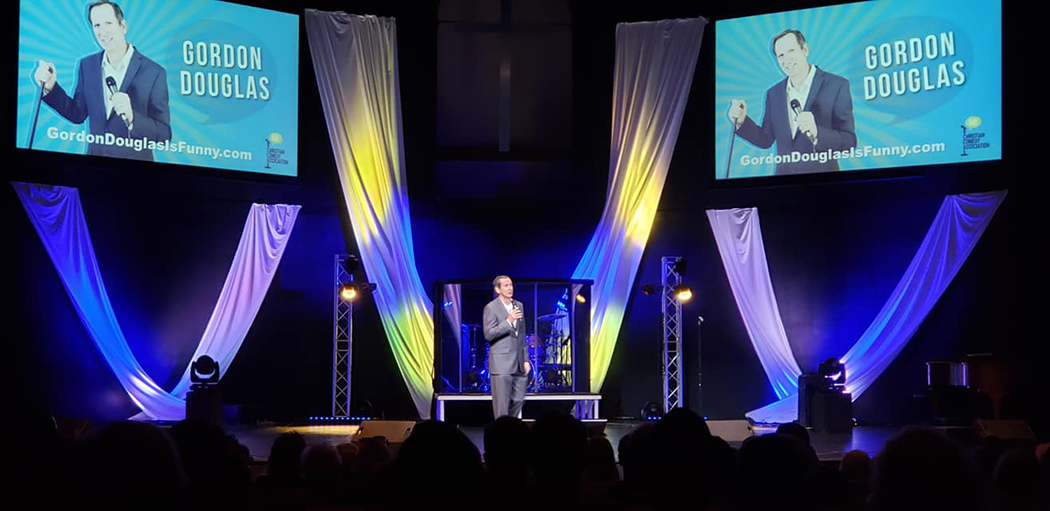 Gordon Douglas has been married to his wife Dawn for over 35 years. They have five natural children and have opened their hearts and home to a whole lot more. But most importantly, Gordon is someone who lives and loves to laugh! In the 70's, his comedy skills took him from the nightclubs in Philadelphia to Hollywood. Then he ended up in ministry! A wild thought soon came to him. He didn't have to give up comedy for the ministry, he can do both - often at the same time!​
Learning from his comedy heroes Jonathan Winters and Red Skeleton, Gordon's comedy mixes real life stories with "off the wall" physical comedy and his own hilarious view of life. You will relate to his side splitting stories from his life- like dropping the sermon notes into the grave at his first funeral to his demonstration of changing his first diaper, to his now famous "pantyhose dance" that has folks rolling in the aisles. He helps us see the funny things all around us and find joy no matter what we are going through. But he is more than funny!
With genuine humility, honesty, and passion Gordon often weaves life lessons into his programs of the things he's learned in the ordinary and often painful events in his life that include some tragic deaths, his wife's victorious battle with cancer, and his dads many years confined to a wheelchair.
So since returning to the comedy world in 1995, Gordon has been in 41 states and 4 countries and has been featured on a variety of television and radio programs. What makes Gordon different? His unique ability to connect with everyone from teenagers to senior citizens. He has performed on both Royal Caribbean and Carnival cruise lines as well as countless colleges, comedy clubs, and corporate events with mixture of fun and faith, love and laughter.​
Who Needs a Comedy Writer?
Gordon's unique home offers hours of comedy material and inspiration for living life to the fullest. When he and Dawn were told 40 years ago that they couldn't have children, they were deeply moved by the biography of Keith Green, and they opened their hearts and home to 8 boys (only 3 at a time), a missionary family with four kids, a young couple with a baby. Also living with him are his "in-laws" and some "out-laws." YES - 2 prisoners under house arrest! Check out the dinner table! As a result, Gordon and his wife Dawn were named Parents of the Year in the state of Pennsylvania.
What else do you need to know?
Besides his vast comedy background, Gordon was named Who's Who in America's Universities when he graduated from Philadelphia Biblical University in 1995. For the last 20 years Gordon has served as the head of the pastoral board of the Delaware County Pregnancy Center and regional coordinator of the National Day of Prayer.
In his spare time he is still the president of Therapeutic Construction and Design- making custom equipment for folks with disabilities. In honor of his hero Bob Hope, Gordon started OPERATION BELLYLAUGHS, sending comedy DVDs to the troops. If you know a man or woman serving in the military, Gordon will send them a DVD. Just e-mail Gordon the address!